HiTech Financial Accounting Software
---
HiTech Financial Accounting is a highly automated system for Accounting with detailed Analysis. With its powerful features it is ready to meet requirements of all types of business and trading houses specially customized for the business houses with their large product and customer base. HiTech Financial Accounting will streamline your business accounting in such a way that through improved management you will see the profitability of your business grow.
It can open any number of companies in one single package. The program has got powerful features to take care of all requirements of a Trading and Business House and serves as a complete Management Information system (MIS). The design of HiTech Financial Accounting is modular. The data from various modules flows in Accounts module and all your final reports are produced at a touch of a button. HiTech Financial Accounting has following modules for complete business information management :
Parties Module

Transactions Module

Employee Module

Accounts Module

Bar Coding Module

Utilities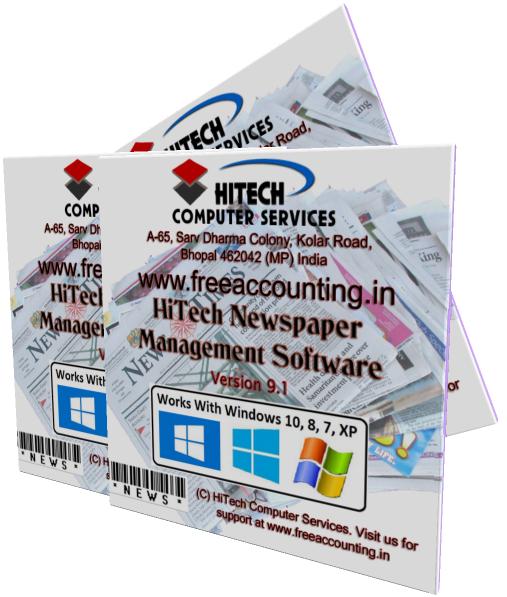 This modular program keeps detailed information customers and suppliers you deal with, transactions and accounts . Apart from the preparing and printing vouchers, cash book, ledger HiTech Financial Accounting keeps your accounts up-to-date without any effort. Numerous reports are available for viewing and printing where you can keep an eye on the vital indicators about your business. If your organization is large and need to computerize employee records then you can opt for HiTech Financial Accounting including complete Employees (Payroll) module wherein you can keep the record of employees' salary, attendance, overtime, pay slip, ESI and EPF etc. and print Employees' Pay Slips. Employee module is fully automated and all the calculations are made automatically. Vouchers for monthly salary payments, Loans and Advances, ESI, EPF, TDS etc. are prepared automatically and their posting in the ledger is fully automated. The attendance and over time can also be maintained in a time card format.
Being Window based HiTech Financial Accounting is in tune with the latest computer software technology and will be a long time companion to your profitable business. This application program is designed for use on and Windows 10/8/7, Vista, XP. This program has much improved functionality and more power under Windows (TM). It overcome many limitation imposed by the relatively older operating system DOS by using Windows 10/8/7, Vista, XP operating system. It is equipped with context sensitive on line help to make the whole operation easy for a new user. The user just have to press F1 key and the related help topic windows pops up. Pop up menu show up by right mouse click or ctrl+shift keys which make it further easy to use the program. The GUI is enhanced with many ActiveX  controls to facilitate easy and accurate data entry. The program is equipped with error log which can be emailed to HiTech customer support.
The program uses Microsoft Access databases powered by Microsoft Jet Database Engine for fast and efficient storage and retrieval of Data. These databases are at fingertips through data control where you can view and modify the data very easily. Automatic data testing and backing up is performed to safeguard against accidental loss of data. Multitasking (Carrying out two tasks at a time; i.e. printing reports or invoices is simultaneously possible while viewing other reports or making new invoices. The program uses spreadsheet to display all your data on the screen at the same time for easy readability. All the Grids (spreadsheets) have facility of removing the columns which you do not want to see in the report. Also locating an item in the grids is very easy with instant search feature which is incorporated in all the grids.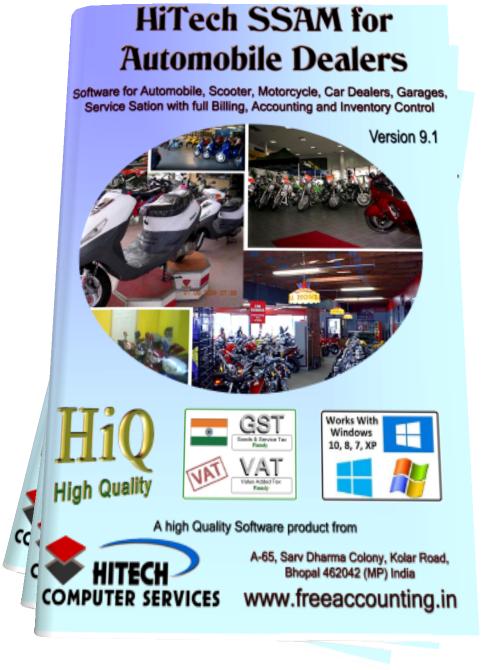 The program includes built in tools like Information Export Panel that allows you to export all reports from to program to Printer with print preview, email, MS Excel, MS Word, CSV Text and also upload to web using FTP. All reports can be displayed in grid as well as in list view (sort-able) format. Another tool included with the program is Communication Control that is linked to party (customer, supplier, employee etc.) records. You can write a communication using word, excel or notepad or send an email to a party. The communication is linked with the party record and can be re-accessed again. Also telephone numbers can be dialed by click of a button using the computer modem.

The a program has an OCX user interface that make data entry effortless and editing of all records is possible with ledger and inventory being updated automatically. A number of reports are displayed with graphs. All reports can be exported in various format as described above.

The program is VAT Enabled and follows VAT (Value Added Tax) system of taxation. Billing / making vouchers is fast and efficient and posting is fully automated. All the reports can be prepared and printed effortlessly in various fonts. Apart from the normal high quality window printing fast printing is also made available using fast printing fonts. This printing is as fast as draft mode printing as under DOS. All the reports can be customized so that you are able to print and see only the columns you require in a report.
HiTech Financial Accounting is equipped with multiple document interface ( MDI ). Using this feature you can simultaneously view any number of reports at a time. HiTech Financial Accounting is 100 % Compatible with mouse which makes the operation much more faster, easier and efficient. All the commands can also be given through keyboard. The program is presented in pleasing and meaningful colours to make working more like fun. The utilities for automatic backing up of your data on floppies regardless of the size of the files being copied, on CD or on network drive are provided with the program. Calculator, Calendar and Clock are provided with the program.
The complete flexibility is provided for auditing of the accounts. There are no shackles put forth in the editing of all or deleting of any transactions. Even the whole ledger can be reconstructed after correcting and deleting any errors made in the transactions / bills / vouchers. Complete access to the user is provided down to the voucher or bill level from Trial Balance and books of accounts like Ledger, Cash Book, Sales Book etc. by just pressing enter key.
This package can be used on the windows network under file-server architecture and different users can be created. Each user can be given his specific rights to use the program using system administration feature of the program. In such case only the allowed menu items show in the program when this user logs in. Unlimited such user profiles can be created. This feature is very useful for use on the network.
HiTech Business Accounting Software are Barcode Enabled.

Barcode39.gif


A powerful bar code solution, beginning with the implementation of the HiTech Bar Code module, streamlines your entire business process. You can collect data by scanning barcode more quickly than ever before, and warehouse and shipping/ receiving staff can record bar coded items with a scanner connected to a computer.





An array of data can be gathered, validated and verified in this way for not only inventory counts, but also quantities, item numbers and lot or serial numbers of goods shipped and goods received.





Instead of time-consuming manual data entry, the data can be easily scanned into the computer to appropriate data field in your HiTech Accounting and Inventory Control System. Inventory errors are very costly to your business. Bar code's advanced features can virtually eliminate data entry errors. Bar Code can automate procedures for dozens of employees, and many businesses discover that implementation of a bar coding solution pays for itself with the very first use.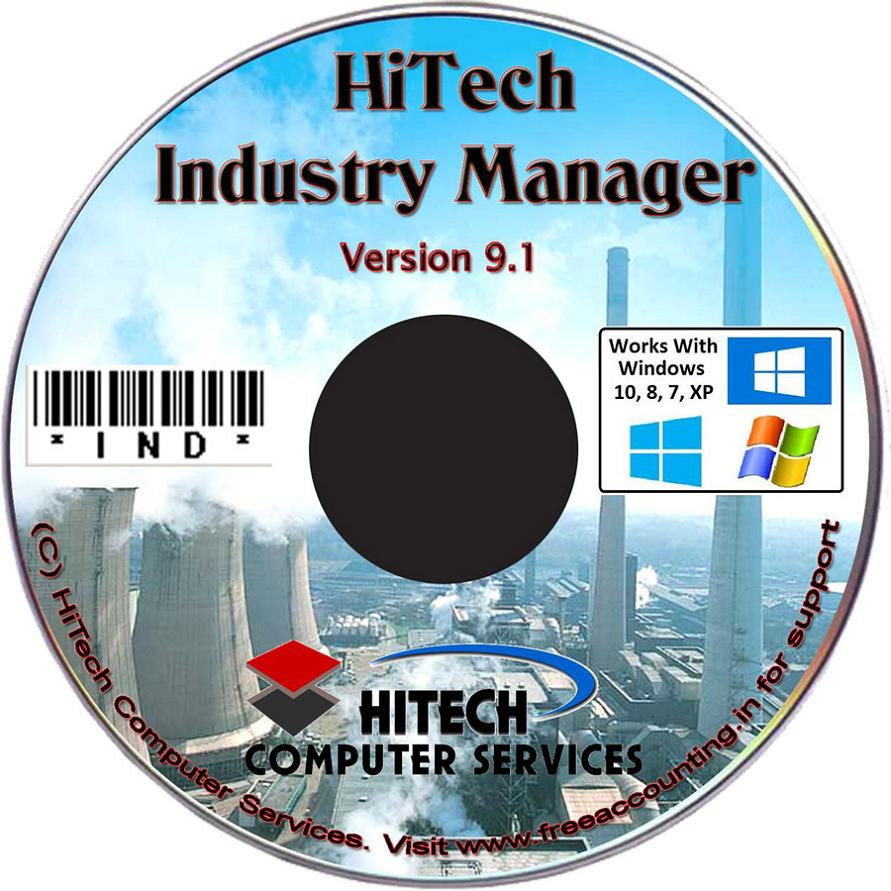 Place your choice today in HiTech Financial Accounting and make your Business Accounting easy to handle. HiTech Financial Accounting will be a reliable companion of your successful business with years of bother free operation. This application software is successfully tried and running at many establishment like Dealers, Distributors, Stockiest of goods , medicines etc. This software has also been successfully customized for organization like hotels, hospitals etc. and has flexibility to be adapted to any business accounting needs. Whatever be your needs for Computerisation of your Business, we at HiTech have a solution for you.
HiTech Financial Accounting is a software product using latest software technology which is "Year 2016 ready" for the total computerisation of trading and business houses and has networking capability to handle requirements of large organizations. It can also be hooked onto an Internet site.
This program is also available for a absolutely free Trial Installation whereby you will be free to use this software for your business for a period up to 30 days without any charges. If you are satisfied with the performance of this software you can place your order.

This program is available in two versions: Full & Compact
Both version fully live up to your expectations of cost effective, professional and reliable business computing for your enterprise.
| | |
| --- | --- |
| Full Version with barcode module | |
HiTech Financial Accounting Software
Modules : Parties, Transactions, Payroll, Accounts, Bar coding, User/Menu Administration & Utilities
| | |
| --- | --- |
| Low Priced Compact Version | Without Bar coding, Employee/ Payroll, User Menu Administration Module. Check Full details at the given link. |
Modules : Parties, Transactions, Payroll, Accounts & Utilities
* Please see program website at HiTech Financial Accounting Software to get full details of what is excluded in the compact version. Customized business solution for intranet or internet are available.

Click here for Price and Ordering Information You can order online securely.


MODULAR STRUCTURE OF HiTech FINANCIAL ACCOUNTING

HiTech Financial Accounting has following interlinked modules :
Parties Module
Customer Record

Adding New Customer

Finding Customer Information

Editing a Customer Record

Deleting a Customer Record

Setting up Customer A/C Heads

Customer List

Customer Current Balances

Customer Transaction History 

Supplier Record

Adding New Supplier

Finding Supplier Information

Editing a Supplier Record

Deleting a Supplier Record

Setting up Supplier A/C Heads

Supplier List

Supplier Current Balances
Transactions
Transaction Vouchers

Different Types of Vouchers

Narration Setup

Voucher Entry

Receiving Payments against Credit Sales

Making Payments Against Credit Purchase

Editing / printing / deleting vouchers

Re-indexing Voucher Numbers

Payment Voucher

Receipt Vouchers

Journal Voucher

Contra Vouchers

Sales Voucher

Purchase Voucher
Employees Module
Employee Record

Employee List

Attendance Register : Day wise / Time wise

Overtime Register : Day wise / Time wise

Employee Leave Summary

Loans and Advances

Monthly Salary Statement

Employee pay slip

Posting of Salary Voucher

ESI Reports

EPF Reports

Month wise ESI / EPF payments
Account Module
Account Head Setup

Adding New Account Head

Finding Account Head Information

Editing a Account Head opening balance / details 

Deleting a Account Head

Default Account Heads

Setting Up Opening Balances

Control Accounts : Setting

Listing Categories of Account Heads

Chart of Accounts
Setup : Profit & Loss And Trading Account
Setup : Balance Sheet
Transaction Vouchers

Different Types of Vouchers
Narration Setup 
Voucher Entry
Receiving Payments against Credit Sales
Making Payments Against Credit Purchase
Editing / printing / deleting vouchers

Journal : Listing Of Vouchers
Bill wise Sales / Purchase Vouchers
Cash Book
Multicolumn Cash/Bank Book
Bank Book
Bank Interest Calculation
Day Account Balances
Current Balances
Account Receivable and Payables
Ledger

Getting The Ledger of any Account

Trial balance

How To Prepare Trial balance
Possible Reasons For Incorrect Trial balance

Control Account wise Trial Balance
Analysis of Accounts 

Month wise Business Indicator
Month wise Account Balances 
Periodic Account Movements
Transactions in Accounts 
Account Heads Comparison
Cash Flow - Movement of Cash
Fund Flow - Assets Vs. Liability

Account Tools 

Re-indexing Voucher Numbers
Merging Of Account Heads
Locate Transaction in Ledger
Updation of Ledger 
Do Reposting of Ledger

Fixed Assets 

Fixed Asset Chart (Half Yearly)
Fixed Asset Chart (Yearly)

Final Accounts

VAT Return
Profit & Loss And Trading Account

Month wise Profit & Loss And Trading Account
Final Profit & Loss And Trading Account

Balance Sheet

Month wise Balance Sheet
Final Balance Sheet

Consolidated Accounts of Company

consolidated Ledger Accounts
Consolidated Closing Balances

Create Next Financial Year without Closing Accounts
Closing the Financial Year
Utilities Module
Set Up/Edit Company 

System of Storage of Data

General Configuration

Close Current and Open Another Company

Log on as a Different User

System Administrations

Perform Data Test

Back up Restore Data

Export Active Report To Excel

Enable / disable program tips

Show Background Image

Set Program Colours

Change toolbar icons

Cascading Windows

Tile all Open Windows

HiTech on the web 

General Utilities 

HiTech On Line Help

Exit Routines

Do not miss this chance of giving your computerized accounting a new futuristic look. Switch over to the latest computer technology today ....
Call Today For Free Demo Installation ....
More details of the software  at :