VAT Accounting and Inventory Control
(Low Priced Compact Version)
---
HiTech VAT Accounting and Inventory Control is a highly automated system for Invoicing, Inventory Control and Accounting with detailed Sales and Purchase Analysis. With its powerful features it is ready to meet requirements of all types of business and trading houses specially customized for the business houses with their large product and customer base. HiTech VAIC will streamline your business accounting in such a way that through improved management you will see the profitability of your business grow.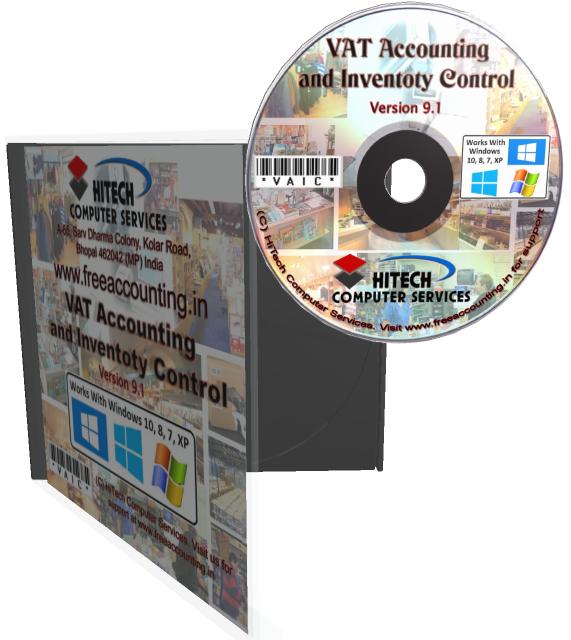 VAT Accounting and Inventory Control Program is a very powerful tool for Invoicing, Inventory Control, Sales and Purchase Control and Accounting. It can open any number of companies in one single package. The program has got powerful features to take care of all requirements of a Trading and Business House and serves as a complete Management Information system (MIS). The design of HiTech VAIC (VAT Accounting and Inventory Control) is modular. The data from various modules flows in Accounts module and all your final reports are produced at a touch of a button. HiTech VAIC has following modules for complete business information management :
Customer Module

Supplier Module

Products And Stock Module

Sales Module

Purchase Module

Employee Module (Optional)

Accounts Module

Utilities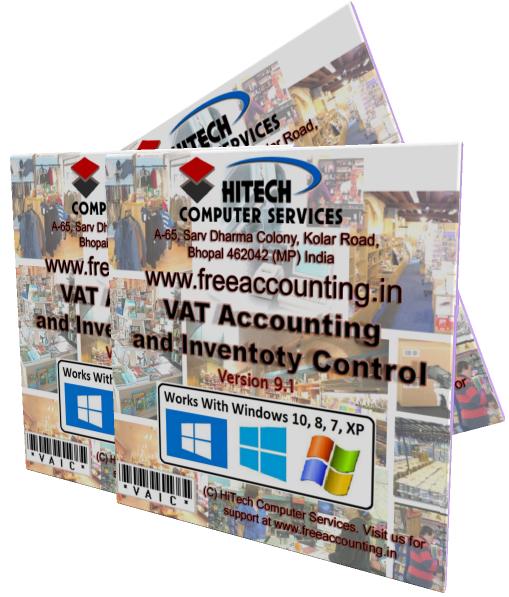 This modular program keeps detailed information about the products, customers and suppliers you deal with, sales, purchase, other transactions, stock and accounts . Apart from the preparing and printing the invoices / letters, stock management and inventory control , HiTech VAIC keeps your accounts up-to-date without any effort. Numerous reports are available for viewing and printing where you can keep an eye on the vital indicators about your business. If your organization is large and need to computerize employee records then you can opt for HiTech Sales, Stock and Accounts Manager including complete Employees (Payroll) module wherein you can keep the record of employees' salary, attendance, overtime, pay slip, ESI and EPF etc. and print Employees' Pay Slips. Employee module is fully automated and all the calculations are made automatically. Vouchers for monthly salary payments, Loans and Advances, ESI, EPF, TDS etc. are prepared automatically and their posting in the ledger is fully automated. The attendance and over time can also be maintained in a time card format.
Being Window based HiTech VAIC is in tune with the latest computer software technology and will be a long time companion to your profitable business. This application program is designed for use on Windows 10/8/7, Vista, XP. This program has much improved functionality and more power under Windows (TM). It overcome many limitation imposed by the relatively older operating system DOS by using Windows 10/8/7, Vista, XP operating system. It is equipped with context sensitive on line help to make the whole operation easy for a new user. The user just have to press F1 key and the related help topic windows pops up. Pop up menu show up by right mouse click or ctrl+shift keys which make it further easy to use the program. The GUI is enhanced with many ActiveX  controls to facilitate easy and accurate data entry. The program is equipped with error log which can be emailed to HiTech customer support.
The program uses Microsoft Access databases powered by Microsoft Jet Database Engine for fast and efficient storage and retrieval of Data. These databases are at fingertips through data control where you can view and modify the data very easily. Automatic data testing and backing up is performed to safeguard against accidental loss of data. Multitasking (Carrying out two tasks at a time; i.e. printing reports or invoices is simultaneously possible while viewing other reports or making new invoices. The program uses spreadsheet to display all your data on the screen at the same time for easy readability. All the Grids (spreadsheets) have facility of removing the columns which you do not want to see in the report. Also locating an item in the grids is very easy with instant search feature which is incorporated in all the grids.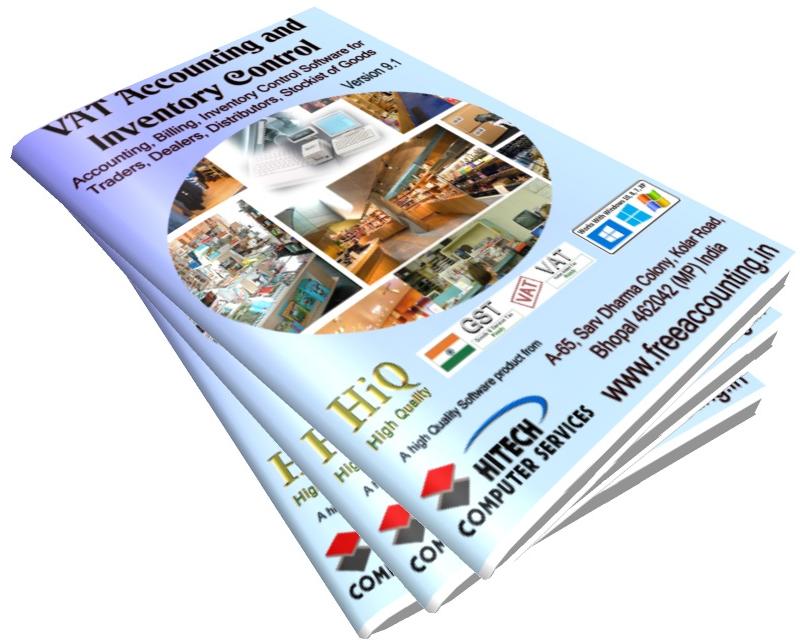 Billing / making vouchers is fast and efficient and posting is fully automated. All the reports can be prepared and printed effortlessly in various fonts. Apart from the normal high quality window printing fast printing is also made available using fast printing fonts. This printing is as fast as draft mode printing as under DOS. All the reports can be customized so that you are able to print and see only the columns you require in a report.
HiTech Sales, Stock and Accounts Manager is equipped with multiple document interface ( MDI ). Using this feature you can simultaneously view any number of reports at a time. HiTech VAIC is 100 % Compatible with mouse which makes the operation much more faster, easier and efficient. All the commands can also be given through keyboard. The program is presented in pleasing and meaningful colours to make working more like fun. The utilities for automatic backing up of your data on floppies regardless of the size of the files being copied, on CD or on network drive are provided with the program. Calculator, Calendar and Clock are provided with the program.
The complete flexibility is provided for auditing of the accounts. There are no shackles put forth in the editing of all or deleting of any transactions. Even the whole ledger can be reconstructed after correcting and deleting any errors made in the transactions / bills / vouchers. Complete access to the user is provided down to the voucher or bill level from Trial Balance and books of accounts like Ledger, Cash Book, Sales Book etc. by just pressing enter key.
This package can be used on the windows network under file-server architecture.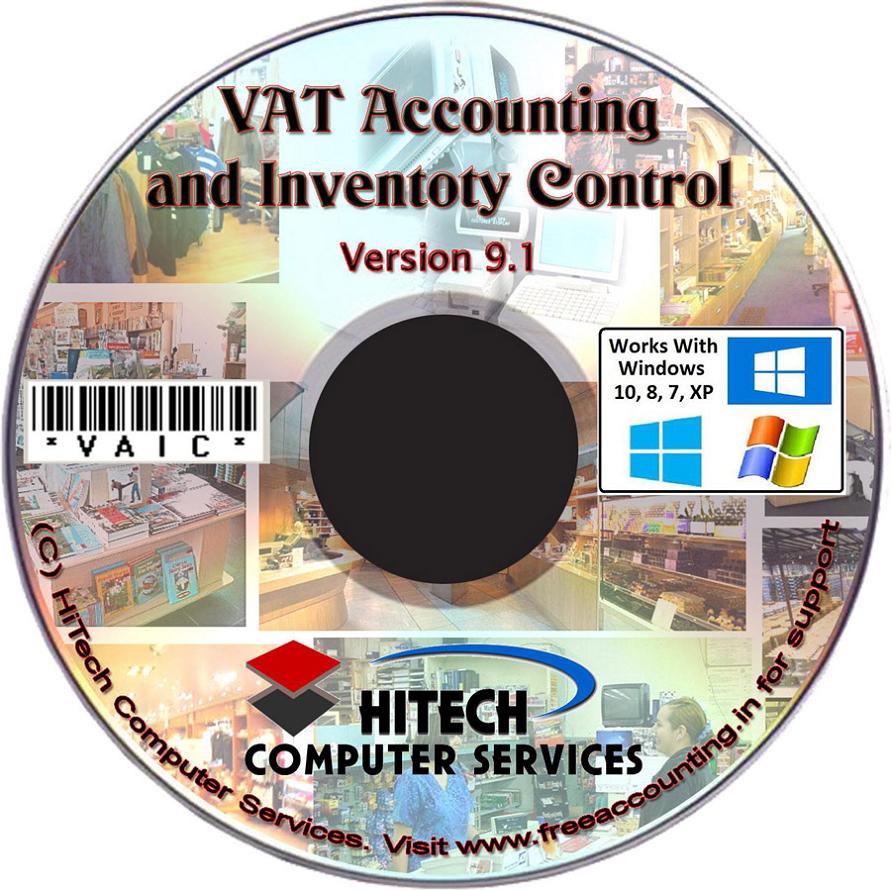 Place your choice today in HiTech Sales, Stock and Accounts Manager and make your Business Accounting easy to handle. HiTech VAIC will be a reliable companion of your successful business with years of bother free operation. This application software is successfully tried and running at many establishment like Dealers, Distributors, Stockiest of goods , medicines etc. This software has also been successfully customized for organization like hotels, hospitals etc. and has flexibility to be adapted to any business accounting needs. Whatever be your needs for Computerization of your Business, we at HiTech have a solution for you.
HiTech Sales, Stock and Accounts Manager is a software product using latest software technology which is 'Year 2016 ready' for the total computerization of trading and business houses and has networking capability to handle requirements of large organizations. It can also be hooked onto an Internet site.
This program is also available for a absolutely free Trial Installation whereby you will be free to use this software for your business for a period up to 30 days without any charges. If you are satisfied with the performance of this software you can place your order. During the trial period technical support on the use of software will also be provided by us free of cost.
 

This program is available in two versions: Full & Compact
Both version fully live up to your expectations of cost effective, professional and reliable business computing for your enterprise.
| | |
| --- | --- |
| Full Version with barcode module | |
Modules :Customers, Suppliers, Products, Barcode Inventory Control, Sales, Purchase, Accounts, Bar coding, User/Menu Administration & Utilities
| | |
| --- | --- |
| Low Priced Compact Version | Without Bar coding, Employee/ Payroll, User Menu Administration Module. Check Full details at the given link. |
* Please see program website at VAT Accounting and Inventory Control to get full details of what is excluded in the compact version. Customized business solution for intranet or internet are available.

Click here for Price and Ordering Information You can order online securely.



Modular Structure of VAT Accounting and Inventory Control 

HiTech VAIC has following interlinked modules :

File

Backup
Restore
Export
Log Off
Exit program

View

Users
Toolbars
Status Bars


Inventory / Accounts

Sales Ordering

New Sales Quotation
Open Sales Quotation
List of Quotations
New Sales Order
Open Sales Order
List of Sales Order
Sales Order Execution
Reports

Invoicing

Sales Representatives
New Sales Invoice
Open Sales Invoice
New Sales Credit
New Breakages Return Credit
Edit Sales Credit
Sales Day Book
Disptach
Delivery Breakdown
Reports

Sales Ledger

Customers
Statement
Customer wise Outstanding Invoices
Outstanding Invoices Ageing Report
Letters
Reports

Purchase Ordering

New Purchase Order
Open Purchase Order
New Purchase Invoice
Open Purchase Invoice
Purchase Order Execution
Purchase Book
Purchase Credit
Breakages Purchase Credit
Reports

Purchase Ledger

Suppliers
Statement
Letters
Reports

Stock Ledger

Products
Product Breakages
Stock Location Transfer
Transfer to Bad Stock
Transfer to Bad Stock
Product List
Customer Special Prices Allocation
Price List
Group Product Sales
Stock Item Movement Register
Stock Statement
Reports

Nominal Ledger

Nominal Ledger Setup
Nominal Ledger
Analysis Status
P && L Account Setup
BS Setup
Current Balances
Control A/c Balances
Chart of Accounts
Comparison of Accounts
Account Balances
Reports

Bank Accounts

S/L Receipt
P/L Payment
New Voucher
Open Voucher
Bank Book
Cash Book
C & B Book MC
Cash Flow
Bank Reconciliation
Reports

Finance

Main TB
Control A/C TB
Business Indicators
Working and PL A/C
Funds Flow
Main BS
VAT Return
Budgets
Prior Year
Assets Register
Consolidated TB
Consolidated Ledger
FA Chart [Y]
FA Chart [HY]
Reports

Maintenance

Re-Index VN
Merge A/C Heads
Update Ledger
Locate Trns. In Ledger
Rept. of Ledger

Configuration

Inventory/Accounts
General Configuration

Settings

My Company Information
Menu Administration
Program Colours
Background Image

Tools

Perform Data Test
Calender
Calculator
Printer Setup
Set System Date
Windows
Tile
Cascade
Minmize All
Maximize All

Do not miss this chance of giving your computerized accounting a new futuristic look. Switch over to the latest computer technology today ....
Call Today For Free Demo Installation ....
More details of the software  at :
Windows (TM) is Trade Mark of Microsoft Corporation, USA.